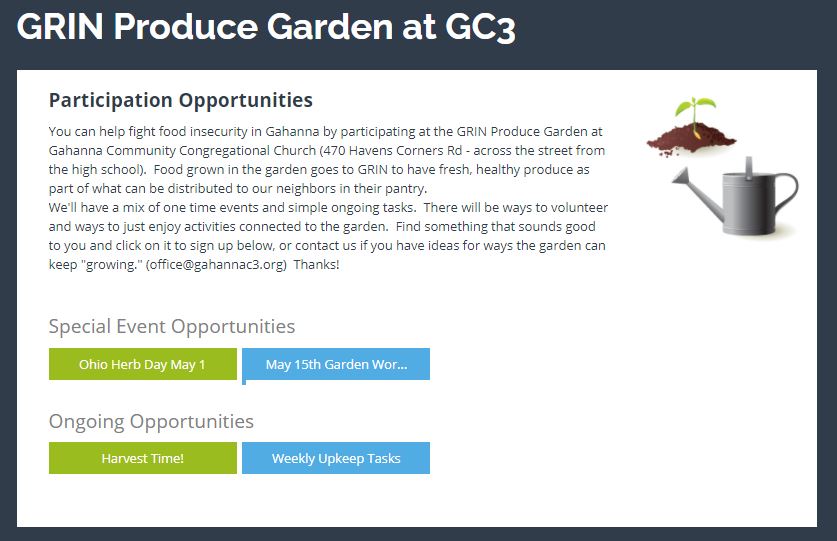 Click Here to Sign Up to Participate and Ask for More Information
Click Here to Donate to the Garden
Take a minute to sign up on our volunteer engagement page (make sure to click the "New User" button your first time), and then you can sign up to participate in the garden however you like.
(If using the page on your phone, you may need to zoom in and out to see things best, but sign ups are fully functional on phones, tablets and pcs)
Your info will be confidential from other volunteers, and our staff will be able to easily get you any important information about whatever way that you're helping.
For Everything There is a Season - Spring 2021
When most people think of gardens, they think most of spring. The anticipation that goes with planting seeds and bulbs and thinking of what will grow throughout the upcoming year. The first green sprouts harkening the transition from winter. The colorful blooms that begin to sprout bringing beauty and the sense of energy with accompanying birds and animals we begin to see as well.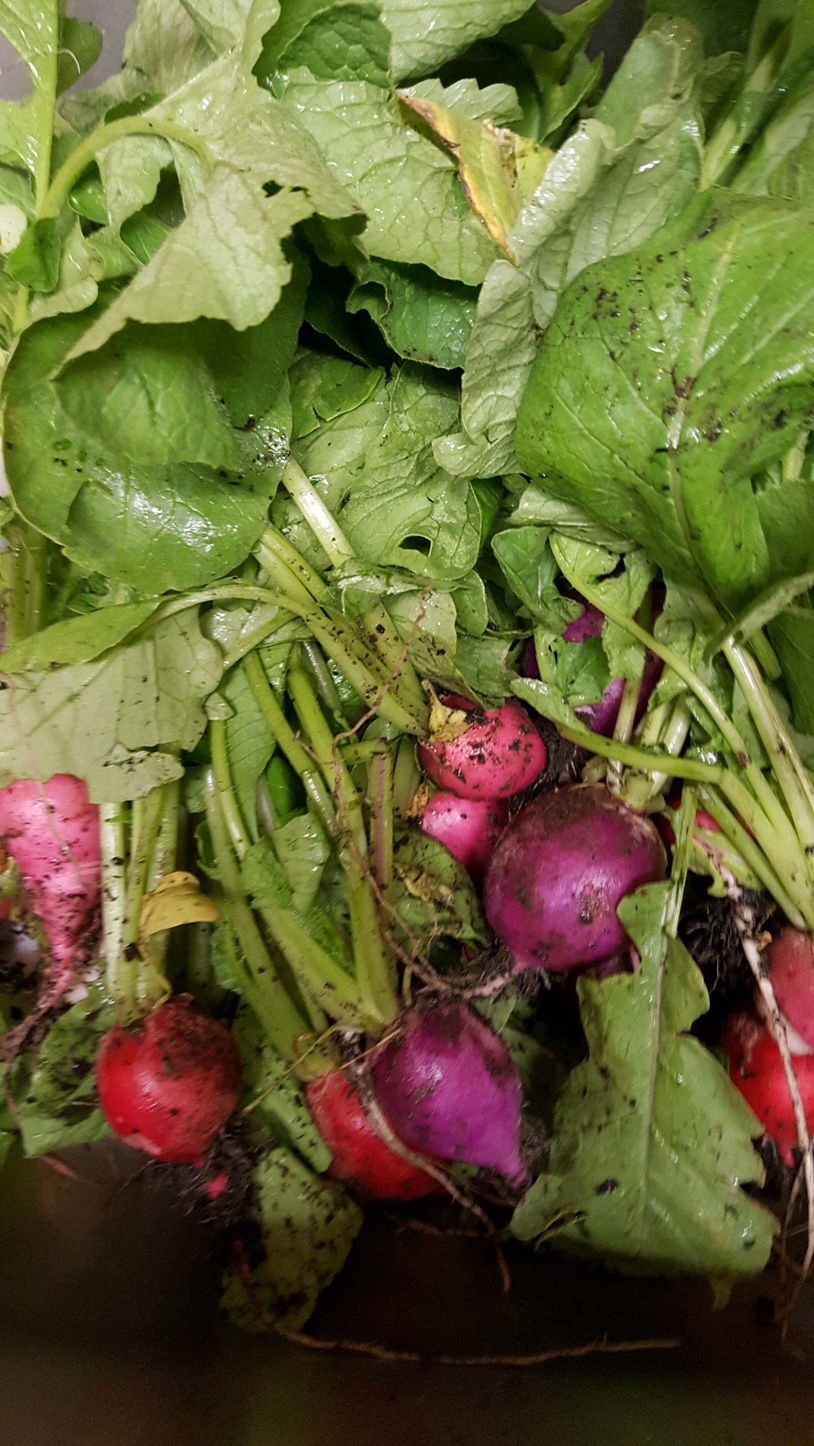 That's no less true for our GRIN Produce Garden, but that doesn't mean there haven't been lots of signs of life since we kicked things off in the late summer/early fall last year. First, we were excited to have great harvests with our first two launching boxes that we planted fall vegetables in. From those 2 boxes, over about 2.5 months, we were able to bring 80 pounds of fresh produce to GRIN! It was a great, manageable, start, and gives so much encouragement when we think about having more boxes with more time and what that can mean for addressing food insecurity in our community this year and in future years.
Second, our volunteers were definitely not hibernating just because the garden was dormant through the winter. A dedicated team stayed diligent to planning and preparing what would be needed for a more ambitious season in 2021. A planting and cultivating plan was established for all the different types of vegetables that will be grown this year, and it was coordinated with the feedback from GRIN and the neighbors for what they'll enjoy and use most. A grant was written and awarded from the Columbus Foundation and joined with other donations from individuals and local businesses to significantly expand the growing capacity of the garden. New volunteering partnerships were established with local scouting groups, Gahanna Lincoln and other local schools, and other invested individuals. Most exciting, though, was the building of 8 more boxes to bring the total to 10 boxes (as of April 2021 - with a few more expected through the year) that can grow vegetables for our neighbors!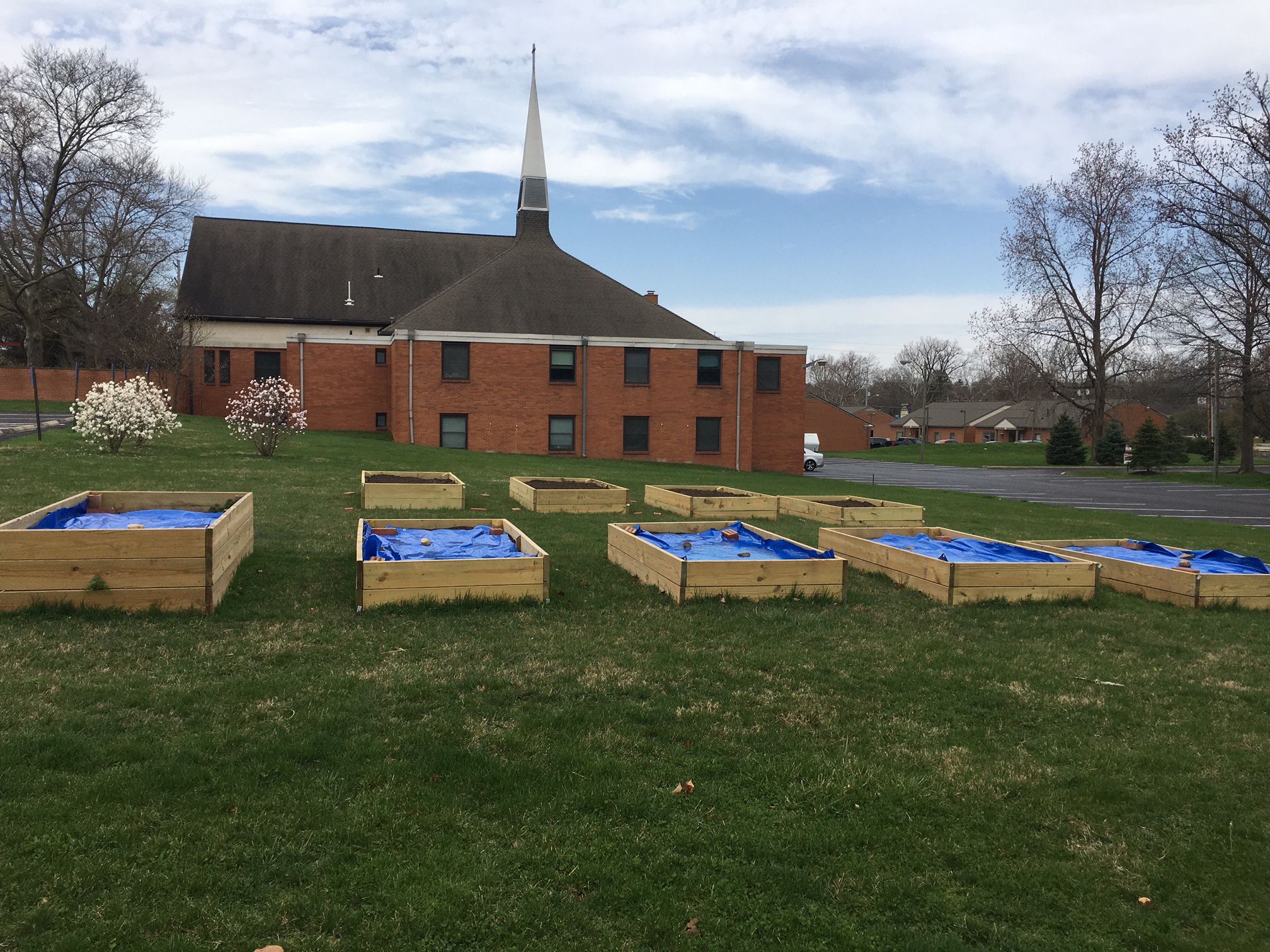 We're so thankful for all these opportunities, all the relationships, and all the support. We're very excited for what we know God will be growing in the garden - both tangibly with the actual plants and vegetables, and intangibly (but just as substantively) with friendships, service, learning and enjoyment.
We'd love for anyone who cares about fighting food insecurity and/or who enjoys or is curious about a fun outdoor activity like garden to feel welcome to join us in this endeavor - in ways big and small, in the dirt or in the office, growing plants or helping grow resources, and more! You can click on the link above to easily plug in to participation opportunities we'll have throughout the year as special projects or ongoing tasks, or contact us at office@gahannac3.org to ask questions, make a referral, or start a conversation about the garden. We're very excited for every connection, and hope anyone interested in this has a great and fruitful year.
"Planting Seeds" for an Exciting New Vision - July & August 2020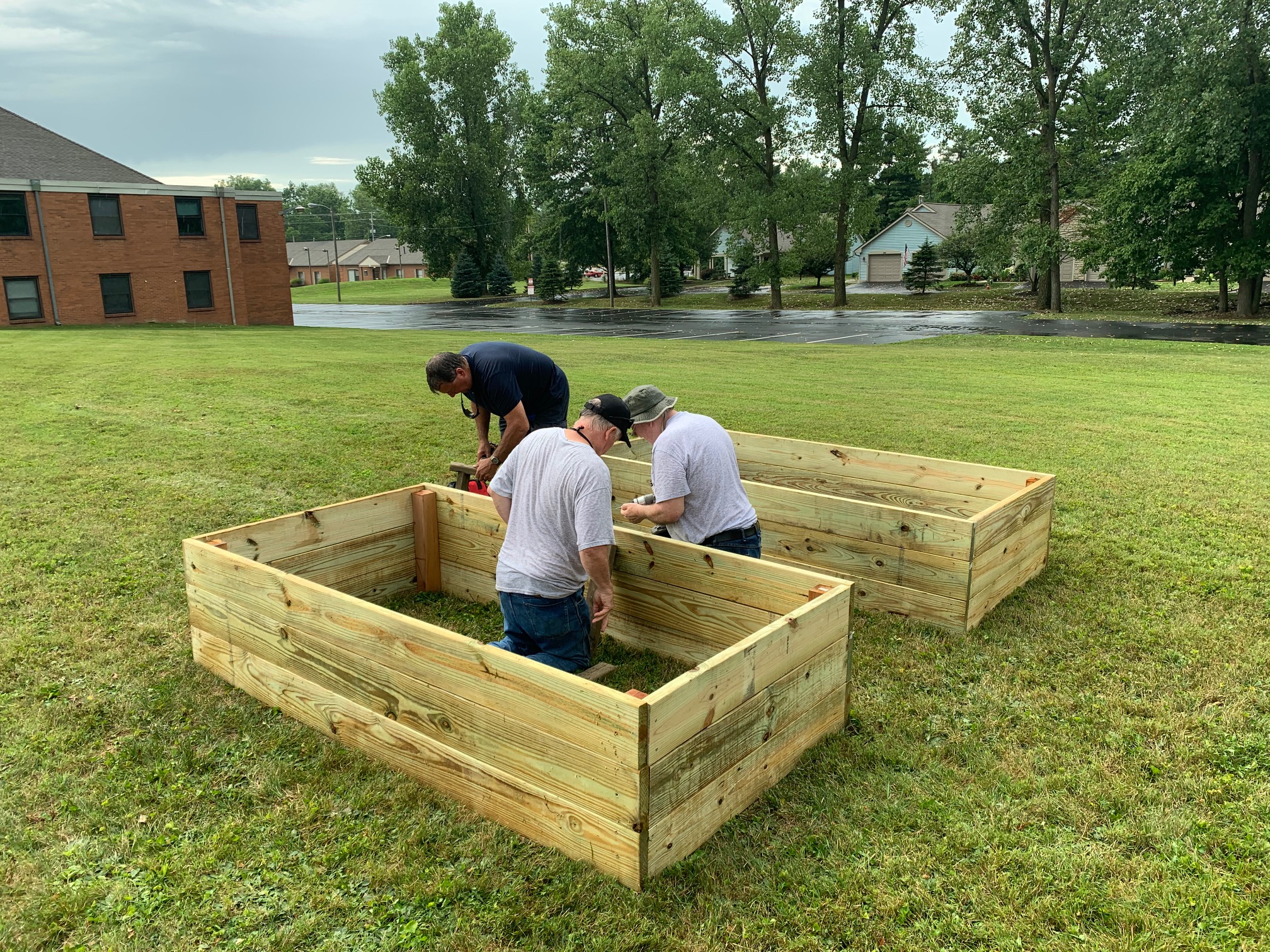 When the coronavirus pandemic hit this past spring, a giant swirl of emotions, thoughts, and questions arose in response - How can we stay safe? What do we need to understand? Besides people's health, what types of impact will this have? How will this impact worship, relationships, and ministry in my church? What should we be noticing and how should we respond when needs for help emerge?
That was true for our church, too, and we're very thankful God prompted us to keep those considerations of how to help at the front of our brains in the midst of all the things we tried to juggle. As some of us had those conversations, recognition of an opportunity emerged - stimulus checks were going out, and while many people would really need them, for some of us less immediately impacted they were more of a bonus. Could we take the focus on increased need of the virus, and any resources we had that didn't have a current outlet, and work collectively to maximize the moment for something that could have immediate and long term impact?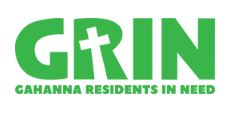 The idea of a Community Produce Garden was born. Some of us had some financial resources that could be designated. Our church has plenty of space on our grounds. We have a wonderful partner in our neighborhood in GRIN who could make sure produce got to people with food insecurity in our community, and who was looking for more healthy, fresh produce options. This could be a really amazing opportunity (and not just for lots of bad spiritual jargon puns).
But it's not easy to actually implement even the most promising ideas. It took figuring out what capacity seemed possible from the resources we had... at least getting started with a plan that made sense for people to work on... convening a team that was able to put some work in... and anticipating the ways to connect with those outside our church as part of ensuring things don't end up quickly petering out. As the idea from spring moved forward into the summer realization that things had to get moving soon to even meet a goal of a strong roll out in a full growth season for 2021, a motivated team came together and things started taking off.
The spark of inspiration was that we already were in position to start something small with fall vegetables. Build a kind of preview corner right now of what the Community Produce Garden can become by next spring and into the future. Some impact begins for people struggling right now especially from the economic impact of coronavirus. More people in our church and in the community can physically see and touch that something is going on, and will be more likely to want to, and understand how to chip in to keep the vision going to become something more ambitious.
On the rainy evening of August 3, 2020, the first part (beyond our volunteers) of the Community Produce Garden became real - our first two sample/preview/example/beta boxes were built and installed on the lawn between our parking lots. There will be plenty more to come (not least soil and plants) in the next few days, weeks, and months to bring this project to "fruition" (sorry sometimes it's actually hard not to do one). We'll be excited to post more updates that we hope you'll keep an eye out for.
Even more so, we'll be excited to share this work with you and see it be helpful in our community - all as guided, empowered, and sustained by God. If any of this sounds interesting to you in any way, please contact Pastor Robb to discuss options. Whether it's financial contribution, linking partnerships, in-kind donations, or becoming a regular or specific project volunteer, it will all make a big difference and be a wonderful way to be "rooted" together in common cause. (That's the last one for now, I promise.)