2020 has been a truly unique and challenging year. There have been a few people in our congregation with memory and insight about somewhat similar historical circumstances we can learn from, but for all of us, at least most of experiences this year have been fairly unprecedented. Obviously the global pandemic, quarantining/sheltering-in-place, and the massive labor and economic fall out have been the most defining external circumstances for this year, but there has also been profound impact from long overdue reckonings with racial injustice that has not been fully and appropriately eradicated from our society and goals for new ways for our civic institutions - especially the security state - to best serve our communities... not to mention unrelated political strife and the prospect of international conflict and war that can feel like they were from a whole other era, but also happened in the US during 2020.
In our community, we do our best to anchor ourselves in God as our foundation to persevere through any circumstances, and strive to have our faith be the primary resource we use to make sense of challenging situations, and respond to them with love and an effort to help. We use worship to regularly call us back to that identity and those aspirations, and we've worked hard to also do ministry that proactively supports each other and serves the needs of everyone in our community. And we also have people in our congregation with amazing artistic and reflective gifts who provide more means we can all make meaning of overwhelming times in our lives.
We realized it could be really meaningful to capture both this unique moment in time, and the ways we navigated it with our faith - especially those ways people's range of gifts brought meaning, encouragement, sympathy, insight, and inspiration to this challenging time. Below are submissions of all types we received from members of our congregation that made the rounds for those purposes, but didn't necessarily have traditional ways to be showcased in worship or other ministry. We hope they serve as both a time capsule of a year we are all likely to have etched in our memory, and curation of expressions that can also speak to our experiences at almost any time. Enjoy.
11-29-2020 - Advent: Hope - Colleen Murray & Vickie Shkane
11-3-2020 - Connie Brack
OACCC Meeting Reflection on Courage
I recently attended the 106th OACCC Women's Fellowship Meeting which was held at the church. Our church was the host for this meeting, which was held on October 24th. It was a virtual meeting and we were able to communicate with the other community churches in Ohio that were in attendance. Through the efforts of Joyce, Glenna, Dorothy, Peggy, and Pastor Rob, (forgive me if I've left anyone out), the meeting was very well planned and I'm so glad I attended. I had never participated in a meeting before.
Our guest speaker was Shannon Cook, who is the granddaughter of Glenna. Shannon writes a weekly blog "Focus in the Fog" (shannoncookwrites.com) and is also writing a series of books for middle schoolers. Her message was "It's Going to Take Some Courage," and I'd like to share some of the things she shared with us.
She opened her presentation with discussing the courage of the pilgrims. How they came to this foreign land and through courage they survived. She remarked that this year marks the 400th anniversary of the Mayflower's arrival in Plymouth Harbor. This followed with discussion of the courageous women of the bible. The book of Joshua talks about Rahab, who was a harlot, but by her acts of faith, she welcomed spies into her home and trusted God to spare her and her family; Ruth, who after she lost her husband and father-in-law, was loyal to her mother in-law, Naomi, and had the courage to stay with Naomi when Naomi moved to Bethlehem; and Esther, who had the courage to stand up to her king to help save her people, the Jews. These women were all connected by courage. One thing that she shared was that it is "really scary" to have courage. This led me to a Bible verse from Genesis 46: 3,4. "I am God, the God of your father," he said. Do not be afraid and go down to Egypt, for I will make you a great nation there. I will go down to Egypt with you, and I will surely bring you back again. And Joseph's own hand will close your eyes." I will admit, I sometimes have questioned if God is always available to take care of me. But, that's when I need to connect with these courageous people of the Bible, have courage, know that God is with me and that no matter what my circumstances, He will take care of me.
Lunch followed after the presentation and the business meeting were complete. It was a day of great fellowship and much love.
9-22-2020 - Connie Brack
God Sightings
I remember when our youngest daughter came home from one of the mission trips which she had attended with our church youth. We were happy that she had decided to go, and thankful that she had returned home safely. When the excitement of her being back home eased, we began talking about her experience, the friends she had made along this path and the people she had helped through the work that each group had been assigned. She told me that they had seen many "God Sightings" during the week that she was there. I was curious to hear exactly what she was referring to. "You know, when you see God at work in someone's life," she explained. She proceeded to tell me of the smiles she had seen in peoples faces when projects had been completed. Building a wheelchair ramp for a handicapped resident or helping replace dilapidated stairs at someone's home, are just a couple examples of the work they had done. Those circumstances had been God sightings for her, and she saw God at work in the projects being completed and the gratitude and happiness of the people they were helping. I think she also felt God at work in her.
I started to think of possible God sightings that had occurred in my life. One that is always close to my heart occurred when my father died. It was raining the morning of his funeral. At the graveside service, the sun had finally started to shine. After the service and once we got home and pulled into the driveway, I turned to shut the car door and looked up at the sky. Behind us was the biggest and most vibrant rainbow that I had ever seen. It stretched clear across the sky. This, to me was a God sighting, and I remember thinking that God was giving me a sign that my Dad was at peace. That rainbow gave me hope and a promise that everything would be okay; that he was okay.
I think God sightings can come to us in many forms. It could be a picture on the wall, a greeting at the grocery store, a photo reminding us of someone in the past, a bible verse, a rainbow.
Those garden boxes on our church lawn started with just seeds. Blooms erupted, crops grew, and now produce has been delivered to GRIN. Through much time and effort by the search committee, our church has just ordained a new pastor. God is at work, and these things have been added to my list of God sightings.
Do you have a God sighting that you would like to share?
8-20-2020 - Peggy Stout
A poem brought to mind for our current season,
inspired by the Holy Spirit 3-14-2019
"We Love Because He First Loved Us" 1 John 4:19
Lord Jesus, in my lonely times
when I want to fit in
and long to belong -
Please help me to see Your love for me -
Your saving love so tender, yet strong.
King of Kings and Lord of Lords,
Master of all seen and unseen -
Thank You for seeing me as part of your family -
Thank You for loving me as me...
8-5-2020 Colleen Murray
A special capture of a butterfly at the Schaefer Nature Center, Ogelbay Park in Wheeling, WV.
There's a lot about this year that has left us feeling cocooned - physically, emotionally, or otherwise. We can remember how the butterfly signifies transformation into something beautiful - that God will work in any circumstance to transform us.
Camilla Daniels 7-12-2020
During our period of streaming our worship services on the internet, we have maintained most of our normal order of service. That includes our Children's Messages. As a way of helping all of us, but especially our kids have perspective, see to the other side of our current circumstances, and notice ways we make the most of what we're going through, Camilla Daniels shared her experience as a child quarantined with her family because of polio.
Not only coronavirus, but also the killings of George Floyd, Breonna Taylor, and Ahmaud Arbery, and the social outcry in response really impacted our lives and the way we think about the world in 2020. Understanding complex issues with huge historical weight like systemic racism and the relationships between communities and civic institutions, especially law enforcement, is a big thing for any of us to try to work towards - and kids especially. As one way of reflecting on these realities and how we can think about accountability, justice, and reconciliation in society as people of faith, Aislynn shared an analogy she saw in Frozen 2 with some of what she was learning about.
(Check out our facebook page for another way our church tried to help kids unpack these complicated issues, as well as other kids oriented content like Pop Up Parables)
For a lot of kids, but really for a lot of all of us - the break in school and summer programs and other places we're used to sharing time with friends and making new ones was one of the hardest adjustments during the pandemic. Even when opportunities came back, the circumstances were different and navigating the relationships could feel more challenging. During our children's message, Aislynn Tarr shared an example of how this worked out in her experience and how God was with her through it all.
During our period of streaming our worship services on the internet, we have maintained most of our normal order of service. That includes our Children's Messages. As a way of helping all of us, but especially our kids have perspective, see to the other side of our current circumstances, and notice ways we make the most of what we're going through, Camilla Daniels shared her experience as a child quarantined with her family because of polio.
Peggy Stout - 5-15-2020
It's All About Him
We live in this world where we cope with problems and disease-
As we care for each other and see to each other's needs,
We should remember, when patience wears thin-
that it's not about us,
but it's all about Him.
When tempers flare or our future looks grim,
find peace in Christ, for it's all about Him.
Lord Jesus, we ask, as each day dawns new-
Please help us to remember God's plan for us,
God's perfect, loving plan for us-
and that it's not about us...
but it's all about You.
Pastor Robb and Church - Easter Season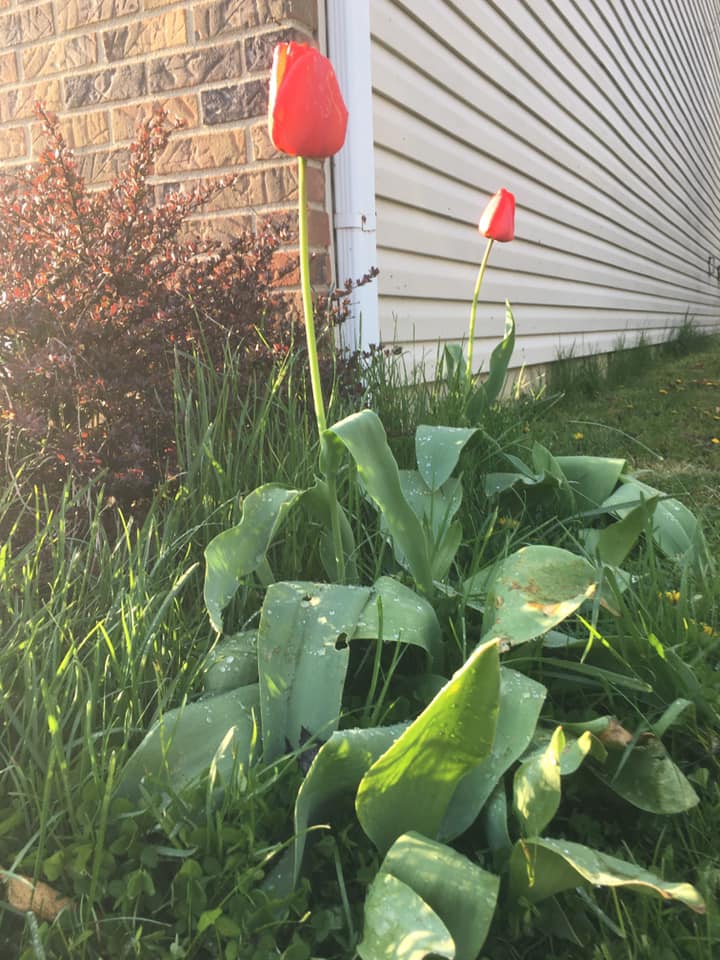 As we moved out of Lent and into the Easter season, guidelines to stay at home were still very fresh and what the future would hold with coronavirus still felt very up in the air. We created a special facebook thread for people to share "signs of new life" in the unusual season to give each other encouragement and inspiration from what was around us, and to keep us on the look out for what God was doing. Click to check out the full thread. This pic is of some tulips in Pastor Robb's yard that are ripe for getting chewed up by animals and the lawnmower throughout summers, but always seem to come back strong in the spring.
Colleen Murray 4-12-2020
From her blog at starlilypapparrazzi.blogspot.com. For Easter:
Lots of tears today. Good and bad.
Easter 2020 began with a touching virtual sunrise service. Music from our organist/pianist. Scripture readings. Flute music I recorded in harmony with birdsong. Ethereal.
Tears of remembrance as a couple of hours later another meaningful service went live in which our pastor dad enlisted the help of his daughter.
Tears of sadness for a friend who sent a text message that her father in law lost his life to the virus but she hoped he'd be in time for mass in heaven.
Tears of benevolence as I see the pictures of families posted in their best Easter attire. Girls in frilly dresses and boys in ties pose for Easter pics with baskets of eggs and chocolate bunnies. The human spirit on fire.
Nostalgic tears on the way to deliver a cake to my son's patio as I drive by dads trying to make kites fly. Thinking of my own dad running back and forth on the flood wall until the kite took flight.
Tears of joy as I host a zoom meeting with my family, each one so precious to my heart. I want to touch, to hug. Not now.
Tears of pride as I check messages on email for my school district. Love before lessons. Teachers and staff finding solutions in uncharted waters. We miss you.
Tears of laughter as one of my student ambassadors tells me she's going to throw her chrome book out the window (again).
Tears of gratitude as I remember those who have lifted me up and blessed me in some way throughout the quarantine.
We are all doing the best we can. Through illness and unemployment and financial peril and bereft uncertainty, you cannot douse the human spirit. So take heart, dear ones. Humanity shines. And America, she still sings.